Means against skin ageing: Apricot Oil
Apricot oil is yet another vegetable oil with valuable properties, which we start to use more and more willingly in everyday hair, skin and nails care. What haven't you known about apricot oil? Certainly, that it is oil with similar properties as Argan oil and is recommended for mature skin. Why?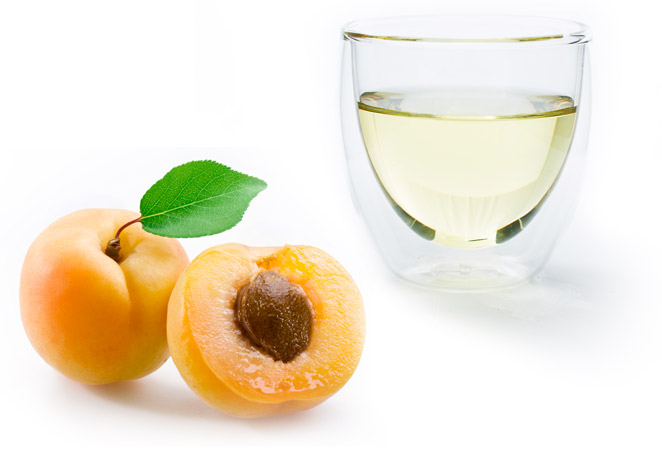 Apricot oil is obtained in the cold pressing process of apricot kernels. We obviously talk about an average apricot tree and its fruits – you probably have one in your garden. Cold pressing makes oil preserve its properties, but also makes it a true vitamin bomb. Apricot oil contains youth vitamin (vit. E), vitamin A and rarely found amygdalin (vit. B17). Besides vitamins, apricot oil contains also few essential fatty acids (i.e. omega-6 and omega-9).
Apricot kernel oil (similarly to peach oil) perfectly revitalises skin, smoothers and provides moisture. It is very light vegetable oil, which absorbs fast and doesn't leave greasy layer. It has subtle scent and clear light yellow colour. In room temperature it is a liquid oil. It is recommended to use apricot oil in skin care of mature skin with first signs of ageing.
Natural apricot oil:
– moisturises even deepest skin layers,
– provides velvety smoother,
– soothes irritations, itching and prickle,
– limits wrinkles,
– nourishes and makes skin elastic,
– can be used in aromatherapy.
Apricot oil can be easily used in skin care of mature skin, because there are many ways of using it, and each of them in a different way delivers nourishing ingredients to skin. Apricot kernel oil is recommended for body and face massage, because additional stimulation and boost of blood circulation provides better absorption of the formula. Apricot oil can also be used to enrich a bath or for direct application on skin, face or hair.